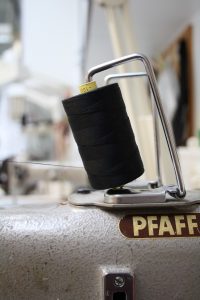 Are you looking for an especially unique piece? Or would you like to turn your own imaginative design into reality?
With great attention to detail we advise you in a detailed conversation about your concept, ideas and wishes. We have a large selection of high-quality, unusual fabrics available that you can not only look at but also touch. Additionally, we can order samples from many fabric collections and dye fabrics in special colours or even have them specially woven. After taking measurements we create a pattern and after two to three fittings where we optimise the fit, you receive your individual garment that fits perfectly and that you will be able to enjoy for a very long time.
Our workshop can draw on decades of experience making suits, costumes, dinner jackets, evening dresses, tail coats, bridal gowns, uniforms and historical costumes. For the latter ones we consult our specialist library and image archives to be able to manufacture garments that are accurate in every detail.