The costume rental Breuer, one of the largest in Europe, was founded in 1950. A typical post-war story: Wilma and Peter Breuer ran a small textile shop on Feilitzschstraße in Munich-Schwabing. One day, a young woman who needed warm clothing for the crossing to America paid with some carnival costumes that she had already rented out several times… Later, the basis of today's fund was laid with the purchase of the "Diringer Fund". In 1960 the Breuer costume rental company moved to Hohenzollernstraße 11. 
 
The Origins 
Over time, the stock continued to grow, costumes from the Prince Regent and National Theaters, the Bütow Sisters and the Gisela TV Ballet were added. Custom-made products were also constantly being made. At the same time, the rental and sale of wedding equipment became more and more important. The shop has been located at Hohenzollernstraße 22a with around twenty employees since 1976. Anything that doesn't fit into the store or is only needed at certain times is stored in a 1,500 square meter hall outside the city. Finally, another branch of business was added: the production of animal costumes (mascots and advertising costumes). In 1993 Waltraud Breuer took over the management.
Costumes Stock & Outlet 
The costume pool currently includes around twenty thousand costumes. All areas are represented. The spectrum ranges from Neanderthals to Astronauts and includes the Middle Ages, Baroque, Rococo, Empire, Biedermeier, turn of the Century, the 20s, 30s, 40s, 50s, 60s, 70s, 80s and even the 90s. So there is almost nothing that does not exist – from accessories to complete costumes. Especially during carnival there is a lot going on here.

Evening wear
In the evening wear department and in the men's department, our customers rent or buy the equipment they have always dreamed of. Evening dress, stole, flower arrangement, hat, gloves, hoop skirt and shoes for the lady; Tailcoat, cut, tuxedo, suit, shirt, cummerbund or waistcoat for men. Tuxedos and tails or evening and cocktail dresses are of course also in demand for other occasions, such as New Year's Eve or the Vienna Opera Ball.
Traditional Costumes  
have high season especially in September and October. For the Oktoberfest parade and the "Wies'n", many visitors dress up in dirndls, lederhosen and traditional costumes. In addition to traditional events such as the Oktoberfest (one of our customers is Schottenhamel), the Nuremberg Christmas market or the Tutzing fishermen's wedding, we also set up private celebrations – especially in summer – and sometimes even entire parades in the style of the Middle Ages, Biedermeier or the turn of the century.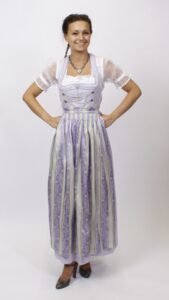 Workshop
The workshop is the heart of our costume rental. Not only necessary repairs and changes are made here, experiments and designs are carried out here too. Everyone can realize their fantasies and have their dream costume made by us.