For events we offer full service packages with suitable clothing and on-site support. Whether traditional costumes, costumes for a specific motto, evening wear, service clothing or accessories, we have a large selection and outfits in sufficient quantities. We have a lot of experience both in the corporate sector in dressing team and service employees as well as in incentives, team building events and outfitting guests. With our Europe-wide all-round service, we support you from planning to return. We can outfit up to 400 people in tails, tuxedos, suits, lederhosen & dirndl and various costume themes.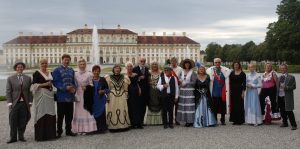 In order to ensure an optimal process at larger events, it is necessary to know the clothing sizes of the participants in advance. We are happy to support you in querying the measurements of the participants and bringing them to a common denominator for different nationalities.
On request, we can name the equipment so that it can be delivered to the room at the hotel and the guest will find it on arrival. This is often useful, especially when you have a tight schedule.
Of course, the larger the group, the harder it is to please everyone. Therefore we offer a tailoring service for small changes as well as an exchange service with an additional selection of outfits on site. We have had very good experiences with this, as the clothing sizes are not always specified correctly.
We are also happy to organize the return after the successful event for you. Credentials: 160 hussar uniforms with delivery to Maastricht and dressing service,
Andre Rieu (link to YouTube)
150 medieval costumes with delivery to Chiemsee and dressing service (Ocean Events)
100 tuxedos with delivery to Strasbourg and dressing service (Team Seefried)
150 Lederhosen and Dirndl with dressing service (Allianz)