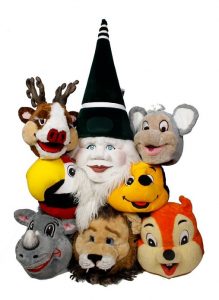 We manufacture media-effective mascots and walking acts in our own workshop. From walking Wiener sausages to smiling bricks, question marks on legs, dancing cans to all imaginable animals, we can look back on many years of experience with international corporations as customers. We always pay attention to high-quality, durable materials and the latest processing techniques.
Starting with creative ideas and the first design drawings, inspired by your wishes or your company logo, we will accompany you to the end result that is effective in advertising. We are also available for repairs, cleaning and repeat orders. If your existing mascot is getting on in years, we will be happy to make it new according to your pattern.
A light headboard, matching plush in the company color, water-repellent materials? We can do all of that. Our special manufacturing process ensures space, air and a large field of vision in the mascot head.
In addition, all costume parts can be put on and taken off independently for different promoters between a height of 160-190 cm using Velcro, zipper and tie fastener techniques.
The complete costume is marked with care instructions and can be cleaned by hand and washing machine.
For a production price of €1500 or more, you will receive a unique mascot. If you need several of the same or similar costumes, we can offer them cheaper. The production time is four to eight weeks, after which the on-schedule delivery takes place.