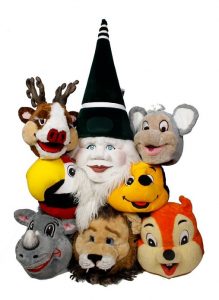 We design media effective mascots and walking acts in our own workshop . In many years of having international companies as customers we have created a great variety of mascots including, among other things, a walking Vienna sausage, smiling bricks, questionmarks with feet, dancing tin cans and every conceivable animal. And whatever we may create for you, we always make sure to use durable, high-quality materials and the latest processing techniques.
Starting with creative ideas and first design drawings inspired by your wishes or your company logo, we can assist and advise you until the eye-catching final result is created. We are also happy to provide repair and cleaning as well as reordering of items. Should your established mascot have fallen victim to wear and tear we can recreate it anew based on the existing model.
A light headpiece, matching plush in company colours, water-resistant materials? We can provide all of these. Our special production process ensures that enough room, air and a large visual range make the headpiece of the mascot easy to wear. Additionally, all parts of the costume can be put on and taken of independently by different sales promoters with a height between 160-190 cm due to a system of velcro, zippers and tie closures.
The entire costume is labelled with care instructions and can be washed by hand or in the washing machine.
For a price starting from 1500 € you can get your own unique mascot. Should you need several identical or similar costumes we can offer you a discount. The production time is between four to eight weeks followed by a timely delivery.